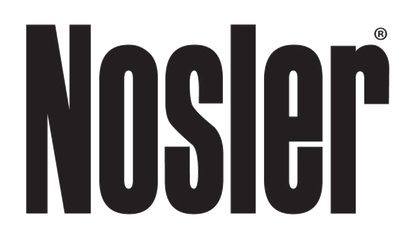 Nosler Load Data
Nosler load data with over 75.000 loads, covering over 80 Nosler bullets (AccuBond, E-Tip, Ballistic Tip, etc.) in over 115 calibers with all suitable powders on the market. Choose your caliber, bullet and bullet weight to find your desired Nosler load data.
You can also check in our bullet database for which
Nosler bullets
we offer load data.
About Nosler
Nosler is a well-known name in the ammunition and reloading industry. The company was founded in 1948 and has been offering high-quality ammunition and reloading accessories for hunters, shooters, and law enforcement agencies for over seven decades. In this article, we will take a closer look at Nosler's ammunition and reloading accessories and examine what makes them a top choice for many firearms enthusiasts.
Ammunition: Nosler offers a wide range of ammunition, including rifle, handgun, and shotgun ammunition. Their rifle ammunition includes popular calibers such as .223 Remington, .308 Winchester, and .300 Winchester Magnum, as well as specialized ammunition like the Nosler AccuBond line, which offers higher accuracy and deeper penetration. Handgun ammunition offerings include popular calibers like 9mm, .45 ACP, and .357 Magnum, as well as the Nosler Defense line, designed for personal protection. For shooters, Nosler offers a variety of shotgun shells in 12 gauge, 20 gauge, and .410 bore, including turkey loads, waterfowl loads, and shot shells.
Reloading Accessories: Nosler also offers a wide range of reloading accessories, including brass casings, bullets, powders, and reloading dies. Nosler's brass casings are known for their consistency and durability, which is important for consistent accuracy and performance of your reloads. Nosler's bullets are also highly regarded in the industry, with options for rifle, handgun, and even muzzleloader applications. Nosler's reloading dies are precision-made and come in various calibers and configurations, including full-caliber sizing dies, neck sizing dies, and bullet seating dies.
One of the things that sets Nosler apart from other ammunition and reloading accessory manufacturers is their focus on innovation and performance. Nosler's engineers and designers are constantly working on new products and improving existing ones with the goal of making shooting and reloading safer, easier, and more accurate. For example, the Nosler AccuBond line features a unique bonding technology that offers high accuracy and penetration.
Nosler's reloading dies are also innovative, with the Redding Competition Seating Die providing extremely precise seating depth.
In addition to their focus on innovation and performance, Nosler also places a strong emphasis on safety. The company offers a variety of resources and educational materials on their website, including reloading manuals and safety videos, to ensure that customers handle their products safely and responsibly. In addition to their wide range of ammunition and reloading accessories, Nosler also offers custom loading services.